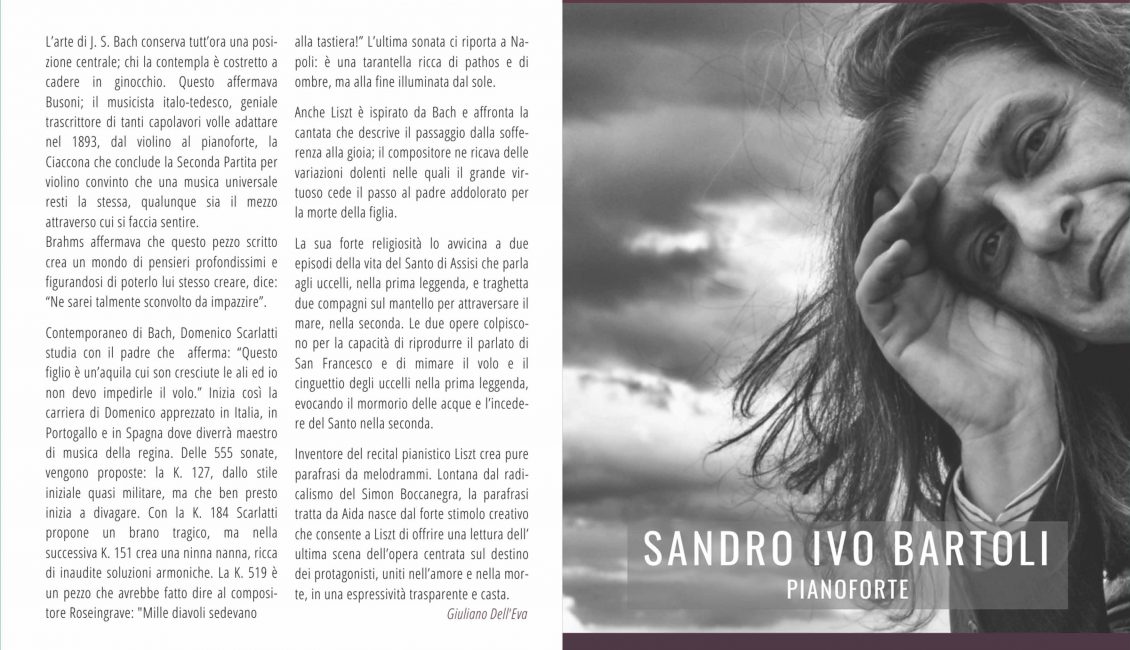 Sandro Ivo Bartoli, pianoforte
J.S. Bach
(1685-1750)
trascr. Ferruccio Busoni
(1866 – 1924)
Ciaccona in re min. BWV 1004
D. Scarlatti
(1685-1757)
Sonate per gravicembalo
K. 127
K. 184
K. 151
K. 519
K. 174
F. Liszt
(1811-1886)
"Weinen, Klagen, Sorgen, Zagen" Preludio da J. S. Bach S. 179
Deux Légendes S. 175
St. François d'Assise: la prédication aux oiseaux
St. François de Paule marchand sur les flots
Aida di Verdi: Danza Sacra e
Duetto finale S. 436
Fra i massimi pianisti italiani in attività, Sandro Ivo Bartoli (Pisa, 1970) ha risposto alla devastazione del Covid-19 con un grandioso progetto online: l'esecuzione integrale delle 555 Sonate di Domenico Scarlatti, diffuse attraverso i suoi canali social dal suo studio nella campagna toscana ed introducendole singolarmente in uno stile informato ma colloquiale. Il progetto ha avuto un successo mondiale ed è l'unica integrale scarlattiana in video, liberamente fruibile attraverso il canale Youtube di Sandro Ivo Bartoli.
Definito dalla stampa tedesca "uno dei più importanti musicisti usciti dall'Italia negli ultimi trent'anni", Bartoli è protagonista di una importante carriera internazionale che lo vede prodursi con varie orchestre di pregio come la Philharmonia, l'Hallé, la Deutsche Philharmonie e la Filarmonica di San Pietroburgo in prestigiosi teatri sparsi per il mondo fra i quali la Herkulessaal di Monaco di Baviera, la Bridgewater Hall di Manchester, la Library of Congress di Washington, il Centre Pompidou di Parigi. Ha al suo attivo una nutrita e varia discografia, votata in parte al repertorio italiano del primo Novecento (del quale è considerato interprete di riferimento), che gli è valsa numerosi premi e riconoscimenti dalla critica internazionale.
Prima della pandemia, reduce da trionfali tournées in Giappone e negli Stati Uniti (dove l'uditorio dei Concerts from the Libray of Congress gli ha tributato cinque minuti di ovazioni a scena aperta), ha colto importanti affermazioni a Berlino con "un recital grandioso" (Fidelity), con l'Orchestra Sinfonica Abruzzese (Secondo Concerto di Rachmaninov) e con la Filarmonica di Brasov (Quarto Concerto di Anton Rubinstein sotto la bacchetta di Iulian Rusu).
Hanno scritto per lui Giancarlo Cardini, David Plylar, Nimrod Borenstein, Dominy Clements, Erik Lotichius. Musicista eclettico, ha frequentato il teatro curando le musiche di scena de 'Il libro dell'inquietudine' di Pessoa, andato in scena al Festival d'Avignon nell'adattamento di  Antonio Tabucchi.
www.sandroivobartoli.com
INGRESSO LIBERO
Info e Biglietti