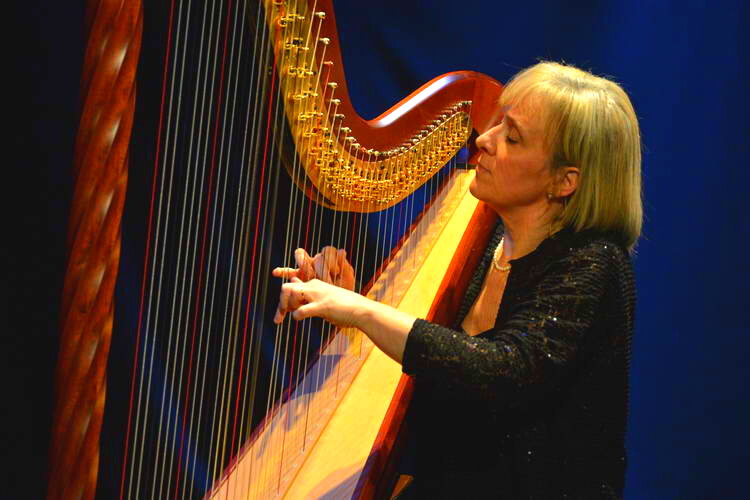 Patrizia Tassini, arpa
Anonimo
Partita (da antiche danze ed arie per liuto del XVII secolo)
Preludio
Balletto
Pastorale
Gagliarda
G. B. Pescetti (1704-1766)
Sonata in do minore
Allegro vigoroso
Andantino espressivo
Presto
B. Smetana (1825-1884)
Fantasia sul tema della Moldava
I. Albeniz (1860-1909)
Granada-Serenata
I. Albeniz (1860-1909)
Torre Bermeja
M. Grandjany (1891-1975)
Rhapsodie
E. Parish-Alvars (1808-1849)
The Mandoline
Si è diplomata a pieni voti e lode presso il Conservatorio "G. Tartini" di Trieste sotto la guida di Evelina Vio.
Successivamente si è perfezionata in Francia al Conservatoire National Superieur de Lion, in Italia e negli USA dove ha ottenuto il Master Degree in Performance and Literature ed il Performance Certificate presso l'Eastman School of Music, University of Rochester (N.Y.).
Vincitrice di vari concorsi nazionali ed internazionali, nel 1982 ha ottenuto il II premio al prestigioso Concorso in Israele. Nel 1984 ha vinto il Concerto Competition negli USA.
Collabora con i flautisti Giorgio Marcossi, Massimo Mercelli, Maxence Larrieu e con le orchestre: I solisti di Salisburgo, la Kammerorchester di Mainz, i solisti di Zagabria e l'orchestra della Radio e Televisione Serba.
Ha fatto parte della giuria del Concorso Internazionale d'Israele, del Concorso "Martine Geliot" di Lille, del Prix al Conservatoire National Superieur di Parigi,del Concorso Internazionale di Belgrado e di Bloomington (USA).
Dal 2002 al 2011 risultava nel Board of Directors del World Harp Congress.
Recentemente ha tenuto concerti e masterclass a Shanghai, Pechino, Taiwan, Istanbul, Anversa e Belfort.
Attualmente è titolare di cattedra d'arpa presso il Conservatorio "J. Tomadini" di Udine e direttrice dell'Orchestra "Ventaglio d'Arpe".
Vasta è la produzione radiofonica per la RAI e Radio France.
Info e Biglietti