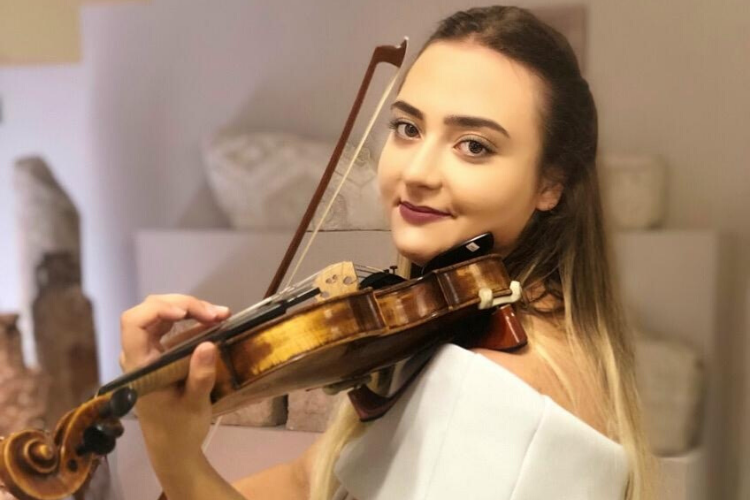 J. S. Bach
Sonata no. 2
N. Paganini
Caprice no. 5
F. Kreisler​
Recitativo und Scherzo
E. Ysaye
Sonata no. 2
N. Paganini
Caprice no. 24
Schubert/Ernst
Der Erlkönig
La violinista Laura Llozi nasce in una famiglia di artisti. Inizia a studiare violino all'età di 5 anni con suo padre e dopo essersi diplomata presso il Liceo Artistico a Tirana, con il massimo dei voti, va a studiare all'Università per la Musica e le Arti interpretative di Vienna con Stefan Kamilarov, e al Conservatorio della Svizzera Italiana a Lugano con il Maestro Massimo Quarta.
All'età di 7 anni debutta con il suo primo concerto presso la Hall of the National Theatre of Opera and Ballet. Da quel momento, con un repertorio che si estende dalla musica barocca alla musica contemporanea, Laura si esibisce in numerosi concerti in Albania, Italia, Francia, Germania, Austria, Serbia, Macedonia, Portogallo, Olanda e Bulgaria come solista accompagnata da diverse orchestre e ensemble musicali, quali "The Symphonic Orchestra of the  Albanian National Radio and Television", "Tirana Philharmonic Orchestra", "Camerata Balcanica" (Belgrado), "Albanian Chamber Orchestra", "Artistic Liceum's Teacher Orchestra", "Klan TV Orchestra" con direttori d'orchestra quali Facundo Agudin, G. Akoka, C. A. Grigore, O. Baronello, G. Kraja, oltre ad esibirsi anche come camerista (primo violino del sestetto "Artlink Balkan Young Virtuosi"). Laura si esibisce anche come parte di numerose orchestre. È membro dell'Albanian Youth Orchestra dal 2012, della Tirana Philarmonic Orchestra dal 2014, della Camerata Balcanica dal 2019, oltre a partecipare alla European Spirit of Youth Orchestra 2016 e all'Orchestre des Jeunes de la Méditerranée 2017.
La giovane artista è stata invitata a numerosi Festival, quali la Biennale "Nights of Classical Music" nel 2015 (durante la quale ha eseguito in prima mondiale tre duetti per violino del compositore spagnolo P. Perreiro, presente durante l'esibizione) e poi nuovamente nel 2019; l' "ArtLink" festival nel 2017, 2018 e 2019 a Belgrado e a Novi Sad; il "Wonderfeel" festival nel 2019 in Olanda; il "Chamber Fest Durres" e il "Multicultural Festival BERAT" nel 2019 in Albania.
È stata inoltre invitata a esibirsi nella stagione artistica del National Theater of Opera and Ballet e dell'Albanian National Radio and Television.
Nel 2018, vince il premio di categoria e il primo premio assoluto alla competizione "The Virtuos" (anche conosciuto come "Prodiges") a Tirana. Nel 2019, vince il primo premio della competizione "Vasco Abadjiev" a Sofia, in Bulgaria.
Laura Llozi è inoltre vincitrice di numerose competizioni quali "Këngët e Tokës ", "Pjetër Gaci", "Tirana Talent", "ARS Kosova".
Nel 2019 ha ricevuto il premio di "Gratitude of Tirana County" dal Presidente del consiglio Sig. Aldrin Dalipi.
Info e Biglietti