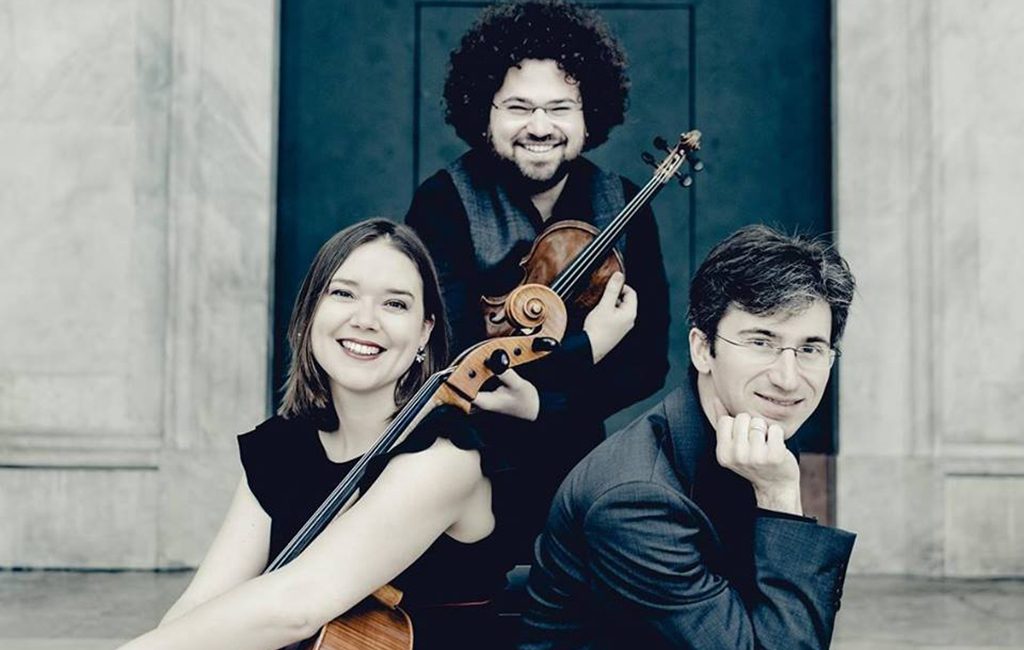 Jonian Ilias Kadesha, violino
Vashti Hunter, violoncello
Nicholas Rimmer, pianoforte
Musiche di:
Bedřich Smetana, Trio in Sol minore
Dmítrij Šostakóvič, Trio n.1
Felix Mendelssohn, Trio in Do minore n.2
Fondato nel 2010, il Trio Gaspard è uno dei trii di pianoforte più apprezzato tra quelli della loro generazione, apprezzato per il suo approccio esclusivo e ricercato.
Il Trio Gaspard è invitato regolarmente a suonare nelle più importanti sale da concerto a livello internazionale, Wigmore Hall, Berlin Philharmonie, Grafenegg Castle in Austria, Salle Molière a Lione, NDR Rolf-Liebermann Hall di Amburgo e la Shanghai Symphony Hall, così come a partecipare a prestigiosi festival come Heidelberger Frühling, Mantova Chamber Music Festival, and PODIUM Festival ad Esslingen.
Impegni importanti nelle prossime stagioni includono recital a Belfast, Trieste, Napoli, Berna, Heidelberg e a Berlino presso la nuova sala Pierre Boulez .
Il Trio ha vinto tre delle maggiori competizioni internazionali: il primo premio e menzioni speciali presso l'International Joseph Joachim Chamber Music Competition di Weimar, il 5° International Haydn Chamber Music Competition di Vienna e la 17ª International Chamber Music Competition di Illzach (Francia). Nel 2012 sono stati insigniti del Wiener Klassik Preis der Stadt Baden in Austria.
Oltre ad esplorare ed eseguire il repertorio tradizionale per trio per pianoforte, il Trio Gaspard lavora regolarmente con compositori contemporanei e porta avanti una passione nello scoprire capolavori raramente riprodotti. Nel 2017 hanno eseguito musiche del compositore Gareth Williams presso la Belfast Music Society, performance che è stata trasmessa dalla BBC.
I membri del Trio, che provengono da Germania, Grecia e Regno Unito, hanno lavorato regolarmente con Hatto Beyerle, membro co-fondatore dell'Alban Berg Quartet. Hanno studiato tra l'altro alla European Chamber Music Academy, istituzione presso la quale hanno lavorato a fianco di Johannes Meissl (Artis Quartet), Ferenc Rados, Avedis Kouyoumdjian, Jérôme Pernoo e Peter Cropper (Lindsay Quartet). Il Trio, inoltre, ha già maturato esperienze di insegnamento, dando masterclass alla Kyung-Hee University di Seoul e come trio per pianoforte in residenza presso il Shanghai Chamber Music Festival nel 2016, occasione in cui hanno insegnato a giovani ensemble di talento e hanno fatto parte della giuria del concorso nazionale cinese di musica da camera. Altre masterclass presso la Dartington International Summer School nel Regno Unito e al Belfast International Arts Festival. Il Trio Gaspard ha vinto una borsa di studio dal Royal Northern College of Music, dove, a partire dal 2017, hanno insegnato a giovani ensemble.
Tutti e tre i membri del trio sono solisti di successo e portano avanti le loro carriere in tal senso, esibendosi in recital e concerti presso sedi prestigiose che includono Tonhalle di Zurigo, Megaron Music Hall di Atene, Teatro Verdi di Firenze, Konzerthaus di Vienna, Berlin Philharmonie di Berlino, Rudolfinium Hall di Praga e Royal Festival Hall di Londra. Sono stati vincitori di premi presso competizioni internazionali tra le quali si possono includere Prague Spring International Music Competition (violoncello), International Violin Competition Leopold Mozart, Deutscher Musikwettbewerb e Parkhouse Award (Londra).
I componenti del Trio Gaspard si sono esibiti inoltre con altri gruppi da camera, collaborando con eminenti artisti come Steven Isserlis, Gidon Kremer, Kim Kashkashian, Nicolas Altstaedt, Alexander Lonquich, Vilde Frang, Pekka Kuusisto, Kit Armstrong, Nils Mönkemeyer e il Quartetto di Cremona.
Info e Biglietti